About XL-CONNECT
By 2030, it is expected that there will be around 30-40 million battery-powered electric vehicles in the European Union. This increase in electric vehicles poses a challenge for the energy system in Europe, but it also presents an opportunity to utilize V1G/V2G/V2X technologies. Since vehicles spend most of their time parked, they can be used to store energy and help stabilize the power grid.
The main goal of the project is to optimize the entire charging process, starting from energy generation all the way to the end user, in order to benefit everyone involved. This involves creating a charging solution that is widely available and can be accessed on demand. The solution will be based on an optimized charging network, taking into account various factors such as human behavior, technical considerations, and economic aspects along the entire charging process.
Objectives
Develop optimal smart charging technologies and related charging and control strategies to enable the use of millions of EVs in different environments (and maximise drivers' satisfaction, energy system efficiency, increase renewable energy use, minimise grid reinforcements and energy exchange needs).
Develop a predictive digital twin of this system of systems to support the development of advanced and optimal charging and control strategies, (and maximize the benefits for all stakeholders in different scenarios).
Develop new services that take into account customer (EV owners, fleet operators) expectations and behaviour and thereby improve the user experience.
Demonstrate the smart charging concepts and new services in different environments including low power renewable energy sources.
Perform an impact assessment (operational, economic, societal, environmental) of the different smart charging strategies and technologies to quantify the impact for the different stakeholders (and assess the conditions in which full V2X functionalities are needed and beneficial compared to V1G).
Concept
In this project, we will focus on understanding the overall system of the electricity grid and charging chain. At the center of this system is the end user, who has a contract either with an e-mobility service provider (eMSP) or the grid provider, depending on where they charge their electric vehicle.
The eMSP has information about the availability and performance requirements of the charging stations. Ideally, it should also receive information about the battery's charge level, which is exchanged with the vehicle manufacturer's system. This helps in planning trips and calculating charging options and duration based on available charging power, along with route planning. The end user can also exchange data with a navigation service provider (NSP) for these purposes.
Additionally, the smart charging service provider (SCSP) has knowledge of the local network requirements. It's important to note that there are many stakeholders involved in this system. To ensure the success of XL-Connect innovations on a larger scale, it's essential that all stakeholders in the charging chain benefit. Each stakeholder has their own criteria and priorities. The XL-Connect project aims to bring together these stakeholders and optimize the benefits for everyone involved.
To achieve this, we may conduct additional analyses, including behavioral analysis, and develop tools and services as needed. The goal is to create a system that benefits all stakeholders and enables the widespread adoption of electric vehicles.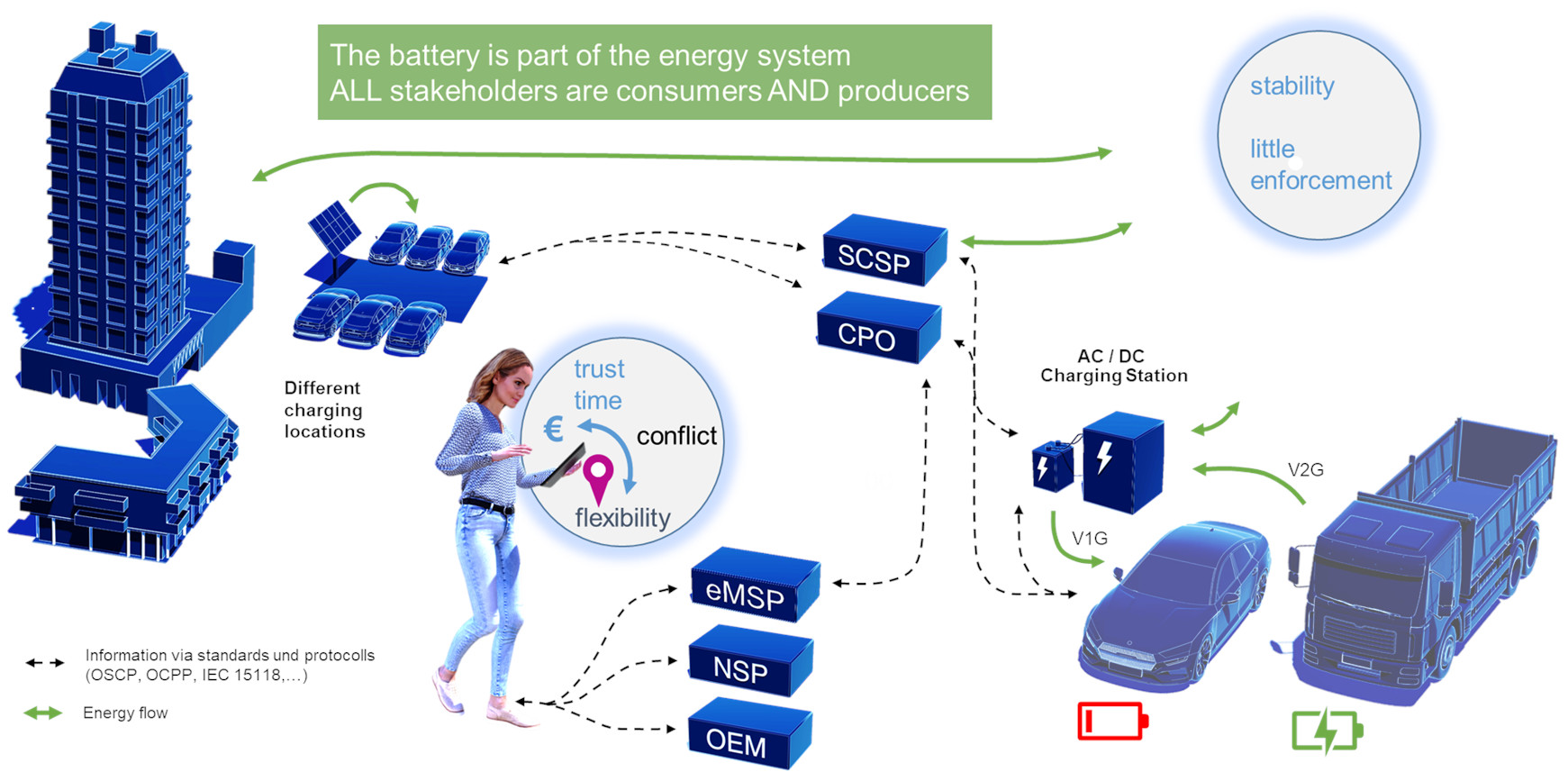 Approach
The project will study how people use electric vehicles and analyze the energy system and power grid to understand how they will behave in the future. This research will help predict the actions of electric vehicle owners and companies that use electric vehicle fleets. It will also identify any problems or weaknesses in the electric grid and energy system.
To support this research, the project will develop advanced charging technologies and control systems. These innovations will be tested and demonstrated in four European countries: Belgium, Germany, Italy, and Portugal. Additionally, a smart charging simulation environment will be created. This simulation will mimic the entire charging process, including different components and how information flows between them. The results from the demonstrations will be incorporated into this simulation to show how these technologies can have large-scale benefits when used on a bigger scale.
Finally, the project will evaluate the practical, economic, and environmental aspects of the developed technologies to determine their effectiveness and impact.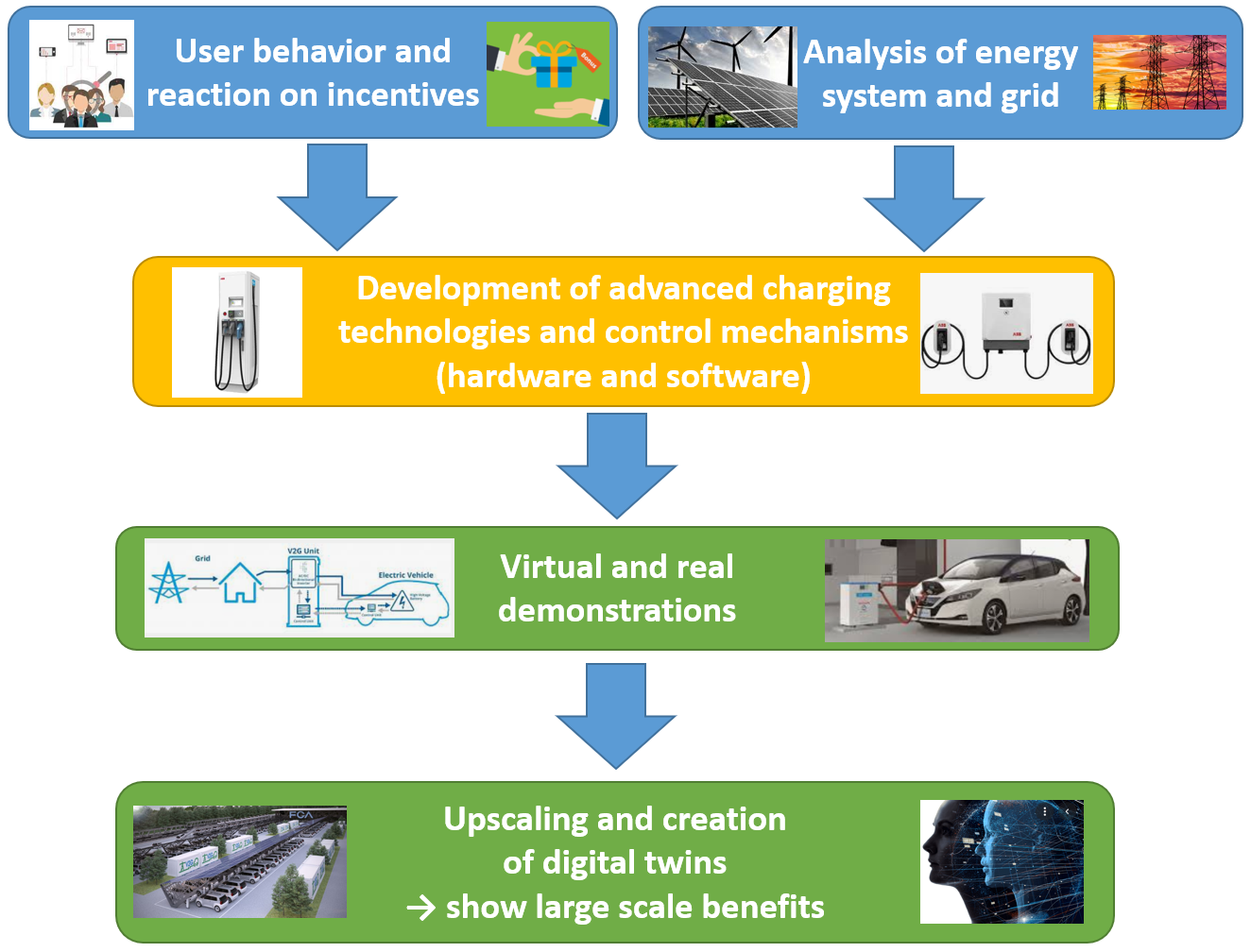 Results
XL-CONNECT expects to achieve the following results. This page will be updated throughout the course of the project with the achievements towards these results.
O1: Definition of the optimal smart charging concepts.
O2: Development of smart charging strategies and control mechanisms.
O3: Innovative concepts and technologies performances to create affordable, user-friendly smart and bidirectional charging solutions.
O4: A better understanding of the operational and economic trade-offs for the user and the vehicle and on the charging infrastructure, as well as the costs for the different actors involved.
O5: Contribution to the integrated planning process of systems aimed at exploiting cross-sector mutual benefits (G2X and V2X).
O6: Contribution to the standardisation process of interfaces for V2X.
O7: Assess customer expectations and implement an open architecture (i.e. not proprietary) concerning smart and bidirectional charging solutions, as key success factors to build a mutually beneficial charging experience for the user and for the grid.
O8: Demonstrate V2X potential in encouraging renewable energy growth through the integration with low power renewable energy sources, by reducing energy exchange with the grid (in both directions) by 50%.
Facts and figures
Acronym: XL-CONNECT
Duration: 42 Months
Start date: 01-01-2023
Total budget: 8.387.620€
EC Funding: 100%
Publications
XL-CONNECT is conducting research in the field of EV and V1G/V2G/V2X-technologies, and will disseminate scientific results to peers in the field by means of scientific publications. All relevant publications will be posted on the website.